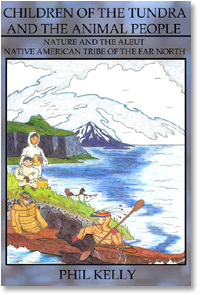 Children of The Tundra and The Animal People: Nature and The Aleut Native American Tribe of The Far North
by Phil Kelly
Book Information
Author: Phil Kelly
Publisher: Robbie Dean Press
Illustrator: John Meszaros
ISBN: 1-889743-62-3
No. of Pages: 76
Index: None
Table of Contents: Yes
Binding: Perfect Bound
Last Update: 2007
Volume Discounts: Yes, call to inquire
Shipping Time: 2-5 Days
Price: $12.95
About The Book
This work is a collection of five short stories with illustrations that bring the stories alive. They are stories that can help anyone learn how to live and survive in the wild with Mother Nature at her best. Many of the tales are taken from the real-life adventures of the author.
This is just the first in a series of short stories that are to be published.
About The Author
"My father was the last traditional Aleut chief of our village. I took his place later in life, but by then the position came under the title of Village Council President. He raised me to take his place someday, by teaching me how to hunt at an early age. My training started at three years of age. I went out with him and carried the game we killed in my backpack and learned by observing him. After three years, at six years of age, one morning as I gathered my 22 rifle and backpack, he told me to go out alone and hunt until I killed something and was not to come back until I did. That was my hunting test. I passed. I got a ptarmigan just at sunset, an hour before dark.
"I did not become a man in his eyes until I killed my first brown bear. After that, at the age of ten, I was a man in father's eyes, and he game me responsibilities accordingly. I was the last to go through these hunting tests."
It is from these experiences that this author, a full-blooded Aleut, in northern Alaska, has developed his tales.
Preview the Book