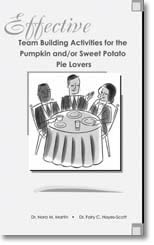 Effective Team-Building Activities for the Pumpkin and/or Sweet Potato Pie Lovers
by Dr. Nora Martin and Dr. Fairy C. Hayes-Scott

For 2014, MANA offers FREE WEBINARs for Aspiring Women Entrepreneurs and Women Small Business Owners

Contact MANA for details
Book information:
Authors: Dr. Nora Martin and Dr. Fairy C. Hayes-Scott
Publisher: Robbie Dean Press
ISBN: 1-889743-27-5
No. of Pages: 65
Index: No
Table of Contents: Yes
Binding: Soft cover, perfect-bound
Volume Discounts: Yes, call to inquire
Shipping Time: 2-5 Days
Price: $12.95
About The Book and Authors:
Dr. Nora Martin and Dr. Fairy C. Hayes-Scott have presented at several workshops. The main purpose of these workshops has been to foster, maintain, and rekindle the teambuilding spirit in different organizations, companies, and schools.
These two professionals implement their academic understanding of group dynamics, knowledge of human nature, sense of humor, and genuine love of people to provide meaningful methods for fostering team spirit among groups. This publication's title reflects this combination. This book is for a wide range of people. If there are human resource managers of a company, presidents of an organization, or principals of a school who need clear and effective team-building strategies, they'll love the flavor of this book. There is food for thought and clear "recipes" for the preparation of these ideas.
This book is a must for teams in:
*Businesses
*Educational Institutions
*Church Groups
*Non-profit Organizations
*Sororities, Fraternities
So, the authors welcome you to the dessert table for any person who feels his/her organization, company, or institution needs some sweetening among its very special ingredients-its members.
A CD will accompany the book that will have color pictures and interpretative readings of poetry. These can be used for group activities.
Preview This Book