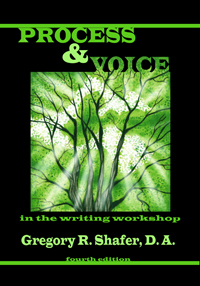 Process & Voice: In the Writing Workshop, 3rd ed.
by Gregory R. Shafer, Ph.D.
Book Information:
Author: Gregory R. Shafer, Ph.D.
Publisher: Gregory R. Shafer, Ph.D.
ISBN: 1-889743-29-1
No. of Pages: 208
Index: Yes
Table of Contents: Yes
Binding: Perfect
Last Update: 2003
Volume Discounts: Yes, call to inquire
Shipping Time: 2-5 Days
Price: $29.95
About The Book
This book is the result of my desire to empower students and to prevent book and instruction from overwhelming the writing process. How, I asked myself as I began planning this work, could I design a book that would facilitate composition without usurpint the creative spirit that resides restlessly inside all students. Too often, I believe, we fail to allow students to be writers, to engage in the process of discuvery and change that constitutes the writing process. Rather than fostering a natural search for meaning and encouraging risk taking, we move to the center of the class and begin to benevolently take over what should be an artistic and personal experience. In the process, we homogenize our students, prescribing dialect and form – reducing the creative act to a perfunctory formality of uncovering the desires of the teacher.
About The Author
Dr. Shafer is a professor at Mott Community College in Flint, Michigan. Dr. Shafer is committed to encourage "writing when it is good and meaningful, is not about instructors but about their students and the rediscovery of writing's liberating potential.
Listen to our radio interview with Gregory Shafer:
Preview the Book