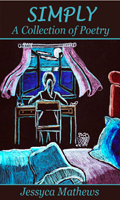 Simply: A Collection of Poetry
by Jessyca Mathews
Book Information:
Author: Jessyca Mathews
Publisher: MarketingNewAuthors.com
ISBN: 978-188974397-4; 188974397-1
No. of Pages: 84
Index: Yes
Table of Contents: Yes
Binding: Perfect bound
Last Update: 2013
Volume Discounts: Yes, call to inquire
Shipping Time: 2-5 Days
Price: $10.95
About The Book
This collection of poetry covers all themes. The variety of works can appeal to the "children in an adult" reflecting on special memories one will always hold dear. And there are poems that address the circumstances that adults experience.
Superhero Fun Run
I'm surrounded by superheroes.
The sun has just started to shine, but the heroes are out, not
affected by the time.
A miniature Buzz runs by me as I walk.
He can't be more than four, and races in order to make an
attempt to fly.
His mother soon passes me, racing after him to save him from
blasting off.
There is a child, painted green and in a tattered shirt
who does a "strong man" pose each time there is a camera.
There are villains,
and Sci-Fi creatures crowding the street
Mothers with strollers are behind me, with layers of blankets on
their babies.
The weather won't stop them from this costume engagement.
The finish line is in front of me.
It's almost the end.
But that was too quick.
I'm enjoying being a child again.
I want to think I can fly,
Climb buildings, fight things that frighten me, and
save the world.
Maybe after I finish the race, I still can.
Make Me Tingle
I am looking for you
to make me tingle.
From the tips of my fingers,
to the edges of my existence.
Make me tingle,
so I feel alive again.
Jolt me back into my sexual existence.
Make my skin feel tiny bursts of energy,
letting me know that it's all right.
It's all right to be made love to,
to be the object of your affection.
I can feel it now as you kiss me
and lay me down softly on the bed.
I just hope it lasts forever.
About The Author
Jessyca is a poet who is…
Passionate, contemplative, humorous, and unique. Lover of God, family, and Michigan.
Who needs a pen, lined paper, and the fresh autumn air.
Who is inspired by teaching high-schoolers, coaching soccer, and formally owning a football team.
Who gives knowledge to a listening ear, female perspective, and minority point of view.
Who fears failure, emotional blows, and lack of writing therapy.
Who would like to be loved, live in a safer city, and give to charity.
Who misses her childhood years, lost loved ones' gifts, and Paw Paw. Who says take chances, use your voice, and learn from others.
Who will someday publish more work, have a best-selling book, and live forever in literature.
Listen to our radio interview with Jessica Matthews:
Preview the Book