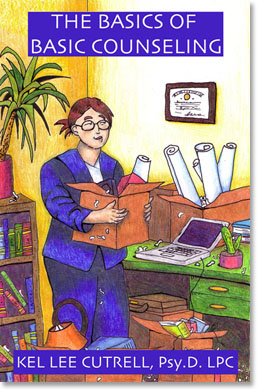 The Basics of Basic Counseling
by Kel Lee Cutrell, PsyD, LPC
Book Information
Author: Kel Lee Cutrell, PsyD, LPC
Publisher: Robbie Dean Press
ISBN: 1-889743-51-8
No. of Pages: 44
Index: No
Table of Contents: Yes
Binding: Perfect bound‹soft cover
Last Update: 2006
Volume Discounts: Yes, call to inquire
Shipping Time: 2-5 Days
Price: $10.95
About The Book
The Basics of Basic Counseling is a beginner's guide for counselors in training. This publication would work well by other more detailed counseling texts. The Basics of Basic Counseling fills a void in the area of counselor training. The only other work that addresses many of the issues covered in this publication is over fifteen years old. The Basics of Basic Counseling provides a fresh perspective and offers students of counseling and new counselors realistic and concrete discussions. It is an easy-to-read reference guide for any individual who is serious about succeeding in this field.
For those who are considering entering the counseling field, this book is a concise must read!
About The Author
Dr. Cutrell has been in the field for over ten (10) years. She has a doctorate degree from Southern California University and is licensed as a Professional Counselor. Her experience is varied. She has experience in a mental health hospital, community health centers, and the college counseling area. She has served as the Director of Counseling & Career Services at Piedmont College in Demorest, Georgia.
Preview the Book